Save 25% on Your First Service!
Lawn Care in Salina
Green, healthy grass requires a lot of work, water, and general care. While some people might prefer to do this work themselves, you might have a busy schedule with no spare time for lawn care, or you'd just rather have someone else mind your grass. That's where Wetlands Irrigation and Turf comes in! We specialize in innovative lawn care that simplifies and enhances your outdoor experience.
Our lawn care services in Salina include:
A 6-step lawn fertilization program

Weed control

Grub prevention and elimination

Disease prevention and control

Complete lawn renovations

Sod installation
We focus on the health of the soil in which your grass grows because soil teeming with microbial life and organic matter yields healthy, strong turf. This method of building your turf from the ground up better equips your grass to handle harsh and extreme weather. So you end up with a lawn that 1) looks great, 2) is healthy, and 3) stands up to weather exceptionally well.
Our 100% Satisfaction Guarantee
Our team strives to do every job right the first time, with a degree of quality that you appreciate. We want you to know that we'll do what we say we'll do, which is why we back all our work with a 100% satisfaction guarantee. If you're at all dissatisfied with a service we provide, we'll return to re-service your lawn, or give you your money back.
Image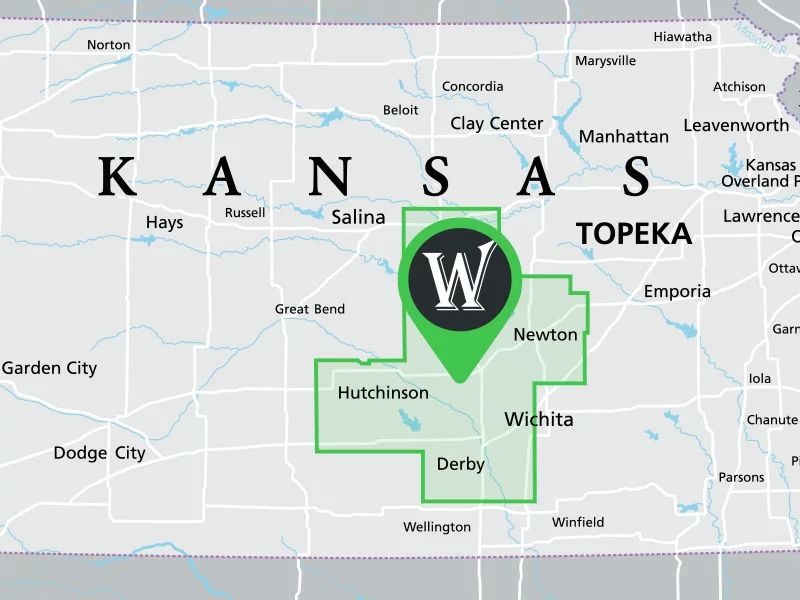 Weed Control in Salina
Weeds take away nutrition from your lawn and ornamentals, resulting in a less than pristine yard. Pulling weeds one by one can take its toll on your body and your time. At Wetlands Irrigation and Turf, we aim to give our customers a well maintained lawn, and save them from the extensive time commitment. We're committed to getting rid of weeds for the good of a healthy, happy lawn. 
When you call us for weed control, our knowledgeable lawn technicians will provide:
Control for multiple kinds of weeds:

both grassy and broadleaf.

Multiple applications

that get rid of weeds for good.

An overseed afterward

so that your lawn continues to thrive.

An approach that is good for the health of your lawn in the long run.
Our well-trained team is ready to help you reclaim your lawn and make it something you can be proud of.
Irrigation Services in Salina
Salina is a lovely place to live, but it doesn't quite receive enough rainfall for lawns to stay green all growing season. Our irrigation systems solve this issue, allowing you to supplement natural precipitation with automated sprinklers that you control with the push of a button. If you've been considering installing irrigation for your turf, Wetlands has you covered.
When you choose us for irrigation services in Salina, you can expect:
An initial consultation

so we understand your vision.

A lawn inspection

that gives us a lay of the land.

Custom mapping of your system

showing where we'll lay pipes and locate sprinklers.

Efficient and quality installation

by our seasoned team.

System testing

to ensure it works as designed.

Operating insights

from your technician so you're comfortable running your system in the most efficient manner.

Our 3-year warranty and regular maintenance

over that 3-year period.
Commercial Lawn Care in Salina
Commercial properties often play host to huge tracts of lawn that require careful and regular care to keep green and healthy. Whatever shape the green around your enterprise takes, we're equipped to nurture it with regular fertilizing, weed control, preventative grub control, and proactive disease control. You can rely on our team to deliver lush turf that augments the professional look of your operation. 
We perform commercial lawn care in Salina for:
Office buildings

Hotels

Restaurants

Retail spaces

Educational facilities

Museums

Government properties

Industrial facilities

And more!
Reach out to us for a free estimate, followed by an in-person inspection, and regular service. We stand behind the quality of our work, so getting Wetlands on the job means you won't have to worry about your grass any longer. Instead, you can watch as it becomes greener and healthier with every visit by our technicians. 
Aeration and Seeding in Salina
Your lawn is one of the most important parts of your property, so taking care of it is essential. If your lawn is uneven, or when it rains water begins to pool in your grass, then you may need lawn aeration. Proper aeration can strengthen your grass, help it absorb water better, and increase the nutrients your grass receives from the ground. At Wetlands we provide professional yard aeration, which we pair with seeding, to help get your lawn ready for the spring. Our Lawn Aeration Services in Salina include:
A free estimate to get you started. 

Custom seeding and liquid aeration treatment plan.

Organic products and lawn-friendly treatments. 

Professional technicians with consistent training on aeration.

Money-back guarantee and free retreatments.
Liquid Lawn Aeration Services and Overseeding
Why should you aerate a lawn? By using a pressurized tank that injects water and oxygen directly into your ground, we aerate the ground, loosening up any compact soil. This process of liquid aeration allows nutrients and water to be absorbed into the soil better, which in turn provides plant growth, strengthens your thatch, and reduces erosion. Unlike core aeration, the liquid grass aerator does not leave holes in your lawn that need to be plugged up. We pair this service with overseeding, which allows your grass to grow back thick and strong once spring comes around.