Refer a Friend, Get $20 for Each Of You!
Lawn Care in Wichita
Lawns in Wichita see harsh conditions throughout the year—from hot, humid summers to frigid, wind-swept winters, and extreme weather events. For a lawn that thrives year-round, you need more than just water and fertilizer. At Wetlands Irrigation and Turf, we focus on the underlying health of your soil because healthy soil yields strong and beautiful grass. 
Our lawn care services in Wichita include:
Our 6-step fertilization program.

Lawn aeration and overseeding

Insect control.

Disease treatment and prevention.

Proactive grub control.

Sod installation

Complete lawn renovation.

And more!
Lawn Services You'll Love
We believe in offering the best service to all of our customers. That's why we offer free retreatments if you are ever unhappy with one of our services. We promise to make it right, every time. We train our team to think like the customer would so we know exactly what to do in order for you to be happy with our services.
Image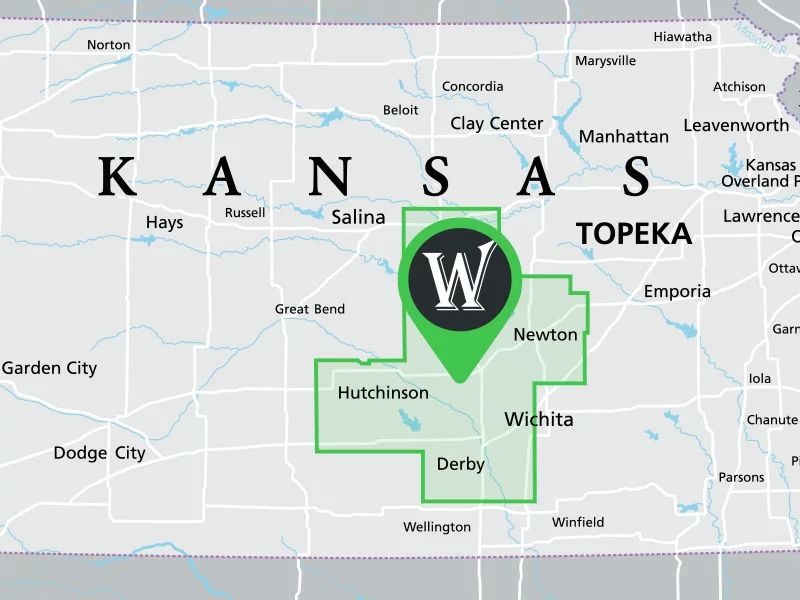 Irrigation Services in Wichita
If you want a green lawn all summer long, the 28 inches of rain that Wichita receives in an average year doesn't cut it. Our irrigation installation and maintenance allows you to supplement natural rainfall with the simple push of a button. We warranty all of our irrigation systems for 3 years and equip you to operate your system with ease and confidence. 
You can count on the following when you contact us for irrigation services in Wichita:
A free estimate.

An in-person consultation so we understand your vision and the layout of your lawn. 

Mapping of your custom irrigation system.

Efficient and precise installation.

User-friendly instructions from your technician.

Regular maintenance by our team.

Insights into the best times to water your grass to maximize efficiency.

A 3-year warranty.
For a watering system that suits your needs, operates smoothly, and keeps your lawn fresh, give Wetlands Irrigation and Turf a call.
Commercial Lawn Care in Wichita
A well-maintained exterior of a brick-and-mortar business goes a long way in shaping the perception of visitors and passersby. For lawns and greenways that showcase your business and facilitate smooth operation, look to Wetlands Irrigation and Turf. We specialize in caring for grass so as to furnish the environment around your enterprise with fullness, health, and vigor.
We service commercial properties such as:
Restaurants

Retail locations

Malls

Hotels

Apartment complexes

Healthcare facilities

Educational facilities

Municipal properties

Industrial complexes
Partner with us for seasonal fertilization, weed control, disease treatment, aeration services, and more. We pride ourselves on delivering top-notch service that doesn't disappoint.
Trust Our Expert Team
Wetlands Irrigation and Turf believes in constant and never-ending improvement. That is why we invest heavily in our team. Our group of technicians receive training on a monthly basis, so they are on top of industry trends and can best serve you with the highest quality work. For durable results on which you can depend, trust the Wetlands Irrigation and Turf team.
Weed Control in Wichita
Not only do weeds disrupt the uniform look of your lawn, but they also crowd out your grass and steal valuable resources, such as water, nutrients, and sunlight. Rather than spending hours to determine how to get rid of weeds without killing your lawn, contact the knowledgeable lawn technicians at Wetlands Irrigation & Turf for weed control for your lawn. We have already done the needed research, allowing you to sit back and enjoy your weed-free lawn in no time. 
As part of our weed control for flower beds in Wichita, you can expect:
A free lawn estimate

so you know what to expect from our weed control treatments.

Pre-emergent applications

to prevent grassy and broadleaf weeds.

Post-emergent products

to combat existing weeds.

3 applications for grassy weeds

to make sure they disappear.

A healthy and lush lawn

.
Aeration and Seeding in Wichita
Compacted soil is a reason for a number of lawn care woes. Is your grass patchy? Are you noticing thatch build up? Are popular paths being worn away? If your lawn looks like it could use a new lease on life, it's probably time for aeration and seeding. 
Our lawn aeration service in Wichita uses liquid aeration technology to loosen soil on a microbial level, without pulling plugs like a traditional grass aerator. Then, we follow up with overseeding, taking advantage of the loosened compaction to encourage new growth. 
When you receive aeration and seeding from us, you may notice the following benefits:
Better soil drainage and absorption

Reduced runoff and puddling

Breaks down dry yellow thatch accumulation

Healthier grass with stronger roots

More vibrant, lush growth

Heartier grass that resists fungus, disease, and pests

Fewer weeds as grass outcompete them
If it's been a while since your lawn was aerated or you suspect soil compaction is bringing down your curb appeal, don't hesitate to contact Wetlands Irrigation & Turf for aeration and seeding that revives your turf.