Looking For Lawn Care in Hesston?
Lawn Care in Hesston
Your lawn is more than just a piece of property. It's an important part of your home with the potential to become whatever you want it to be. Whether you use your lawn for gatherings and hobbies or want to maintain an aesthetic curb appeal, Wetlands Irrigation & Turf has the expertise you need to keep your lawn at its best. 
When you trust us with lawn care in Hesston, you can count on:
A quick quote

given over the phone.

A free in-depth inspection

of your lawn for customized care.

Comprehensive treatment plans

tailored to the inspection results.

Recurring visits

from our expert team members.

Same and next-day service options.

Organic products.
Our licensed and continuously-trained lawn care technicians are ready to give you the yard you envision. Call Wetlands Irrigation & Turf today to start the journey toward a lawn you can be proud of.
Free Retreatments for Your Satisfaction
Your satisfaction is our priority as we help you realize your lawn's full potential. All our work is backed by a 100% satisfaction guarantee that if you're not happy with our work, we'll re-treat your turf or give you a refund.
Image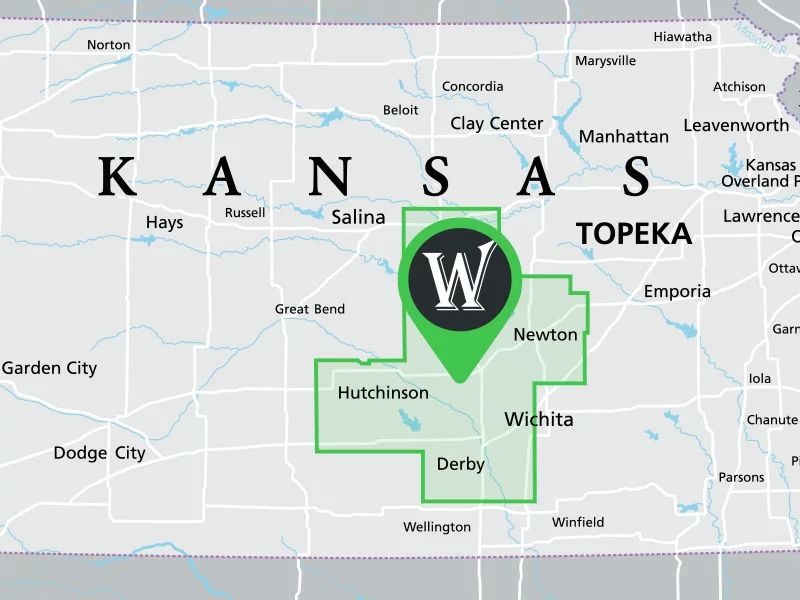 Irrigation Services in Hesston
Rolling green grass and flourishing plants are a necessity for having a good lawn. It can be a lot of upkeep to keep all those plants growing and thriving with enough water. Life is so busy that it's hard to find the time to properly take care of one's lawn. Installing a sprinkler system could be just the thing you need! Sprinklers will help keep your lawn hydrated and primed for growth. 
When you buy an irrigation service in Hesston from Wetlands Irrigation and Turf, you get: 
Consultation

about what you want out of your lawn or garden. 

Inspection of property

to determine placement of pipes and lawn sprinkler heads.

Test the system

to make sure everything is set up correctly. 

Installation of an irrigation system

by expertly trained technicians. 

Clear and concise instructions

on how the system is operated and the best times to water your grass in Hesston.
A Better Way To Water Your Lawn 
Irrigation systems utilize sprinklers to make sure your yard is prospering, even when you can't spend the time to do it yourself. Wetlands Irrigation and Turf can install a lawn sprinkler for your home, taking the stress out of your life so you can sit back and enjoy your luscious lawn. With years of experience, we'll be able to install the perfect irrigation system for you. Plus, with 25% off for first time service, there is every reason to try us out.
Weed Control in Hesston
Having a beautiful yard is a wonderful thing to look out at, but the upkeep of weeds in the lawn can take time away from other things you'd rather be doing with your time. If you want a beautiful lawn with no weeds without the work, call Wetlands Irrigation & Turf. 
Our hardworking technicians will take care of your yard with the utmost care. We're even offering 25% off your first service so you can see we're committed to weed control for your home in Hesston. Our weed control for lawns and flower beds includes: 
Inspection of lawn to see what areas to focus on for weeds.
Custom plan for what weed killer to use and where. 
Weed killer to take care of pre-emergent and post-emergent weeds that might have popped up in your lawn. 
With a knowledgeable staff, the weeds in your yard will soon be a thing of the past! 
Lawn Aeration in Hesston
The daily wear and tear from foot traffic, seasonal changes, and environmental factors add stress to your lawn. In order to maintain the health of your turf, we provide that extra boost with liquid aeration and overseeding services to ensure your landscape is beautiful from season to season. 
It's ideal to aerate your lawn when you notice:
Compacted soil

Pooling water

Bare or thin patches

Brown spots
Benefits of Aeration
Aeration is a great way to improve the overall health of your lawn and garden. This process improves soil structure, helps control thatch buildup, reduces soil compaction, and helps grass absorb nutrients and water. The benefits of aerating include:
Improved root growth:

Aeration allows roots to receive more oxygen, which helps them to grow deeper and stronger.

Enhanced water absorption:

Aeration increases the amount of water that can be held and absorbed by the soil, making it more efficient for your plants to hydrate.

Reduced runoff and puddling:

The aeration process opens up small pathways in the soil that allow water to move down into the roots instead of running off or pooling on the surface.
Commercial Lawn Care in Hesston
Your lawn says more about your business than you realize. A vibrant, healthy, and well-maintained lawn speaks volumes about your pride in your property and community. You work hard all week, so let the lawn care experts at Wetlands Irrigation and Turf take good care of you! 
When you partner with us, you can expect a reliable commercial lawn service in Hesston that includes the following:
A free quote right over the phone!

A thorough inspection of your property to analyze your outdoor needs. 

A consultation with you to be sure we understand your goals and meet your expectations. 

Our six-step lawn care plan designed to meet the requirements of your commercial property. 

Highly trained technicians who will know your property. 

Free retreatments to ensure your 100% satisfaction!
Hesston business and community spaces that benefit from Wetlands commercial lawn care include:
Office buildings

Schools

Hotels

Restaurants

Apartment complexes

Storage facilities and more!