Get 25% Off Your First Service!
Lawn Care in McPherson
For an inanimate object, your lawn sure says a lot about you. Make sure it's saying all the right things with professional lawn care from Wetlands Irrigation and Turf! We focus on the health of the soil in which your grass grows, because healthy soil means healthy, resilient turf.
When you choose us for lawn care services in McPherson, you bank on:
A fast quote over the phone.
A free lawn inspection.
A custom lawn care plan for your turf.
Recurring service visits.
Organic products.
Knowledgeable staff
A beautiful and healthy lawn.
We strive to simplify and enhance your outdoor experience with our honest, thorough, and comprehensive work. Get in touch with us to bring about a lawn you're proud to call your own.
Lawn Care Experts You Can Rely On
We go to great lengths to equip our team with the skills and knowledge to deliver outstanding and dependable service. Ongoing monthly training keeps each of our lawn care technicians on top of industry trends, technological developments, and evolving best practices. 
Image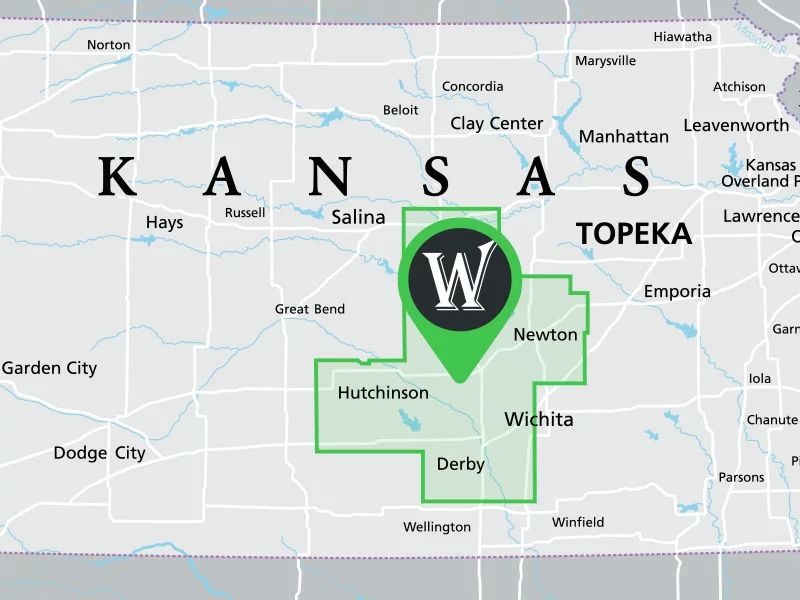 Weed Control in McPherson
When it comes to lawn care, weeds are the most common problem that homeowners try to tackle on their own. However, you don't have to handle weed control yourself. Save yourself the mess and discomfort and call Wetlands Irrigation & Turf for weed control in McPherson.
When you call on us for weed control, you'll get more than a patch job. Our detailed weed control service includes:
A free estimate.

A free lawn inspection

to determine your lawn's needs from the ground up.

Treatment for both broadleaf and grassy weeds.

Three applications

for grassy weeds for the best results.

An overseed after applications

so that your turf is set up for success.
You don't have to look at those weeds any longer. Our friendly, knowledgeable technicians are ready to help you create a customized weed control plan that fits with your lawn care routine.
Irrigation Services in McPherson
When it comes to water in McPherson and Central Kansas, our lawns need a little bit of help. If your lawn and garden need an irrigation system to make watering simple, Wetlands has you covered. 
Our irrigation services in McPherson include:
An initial consultation to learn your vision.
An inspection to acquaint ourselves with your yard's layout.
Custom mapping of an irrigation system that will meet your needs.
Efficient, professional installation of your custom system.
System testing to be sure your system works as it should.
Simple instructions from your technician so you know how to manage your irrigation system.
Regular maintenance to keep your system at peak efficiency.
We work to constantly innovate, bringing you the best irrigation technology and practices available. When you call on us for irrigation services, you're beginning a relationship with our knowledgeable and friendly team that will benefit you for years to come. 
 
Commercial Lawn Care in McPherson
Healthy turf around your campus adds a lot to the general impression visitors have of your operation. We want to partner with you to maintain green, lush grass that showcases the professionalism of your organization. From our 6-step fertilization program to our proactive weed, disease, and insect control, we can cover all your lawn-care-related bases.
We offer commercial lawn care services in McPherson for:
Office buildings
Hotels
Schools
Apartment complexes
Government properties
Commercial facilities
And more!
For positive first impressions that last, look to Wetlands Irrigation and Turf. Our free estimates and initial lawn inspection are designed to lend you peace of mind, so you know just what to expect from us. And regular service visits throughout the year ensure your turf will be in tip-top shape in any season.
Aeration and Seeding in McPherson
If you've noticed issues in your yard with puddling water, yellowing grass, and dead patches, there's a good chance your lawn is plagued by soil compaction. Soil compaction is the result of everyday use, foot traffic, normal weather conditions, and other factors. Fortunately, the professional lawn aeration services offered by Wetlands Irrigation and Turf can quickly revive your lawn, leaving it lush and vibrant in no time. Our liquid aeration process contains a unique formulation that will activate microbials to loosen the soil and break down thatch using enzymes and bacteria, without holes or messy soil cores.  
When you partner with Wetlands Irrigation and Turf for liquid aeration and overseeding in McPherson, you can expect benefits including:
Loosened soil and thatch, allowing better penetration of nutrients, water, and oxygen.

Reduced runoff and standing water after rains.

Increased root development, leading to healthier grass.

Turf that's more resistant to disease, pests, and drought.

Enhanced germination of grass seeds, making it an excellent time to reseed.

Thicker grass, especially when paired with overseeding, which leaves no room for weeds to grow.
If your lawn is looking tired and in need of a little extra TLC, contact Wetlands Irrigation and Turf today to find out how our lawn aeration and overseeding can rejuvenate your lawn.