Christmas Lighting Installation in Kansas
Image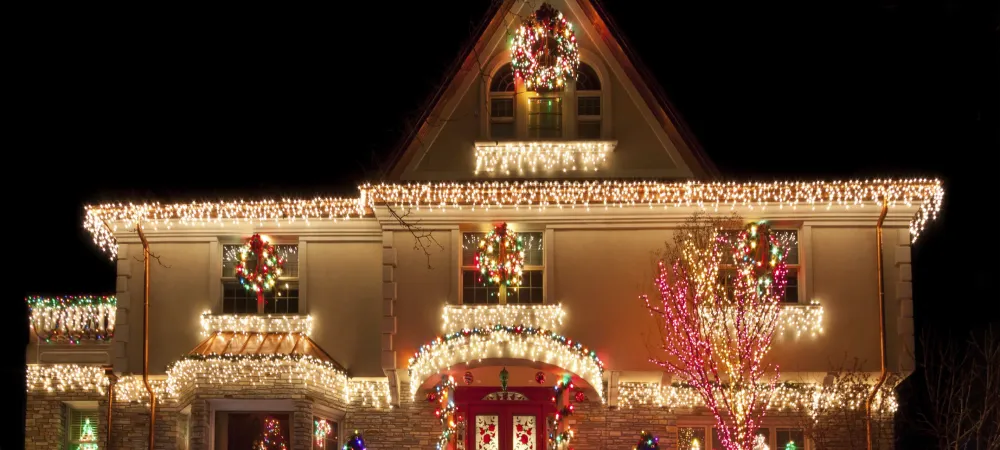 Are you in need of a little extra holiday cheer this year? If so, then you may want to consider hiring a professional Christmas lighting company to install some festive lights around your home or business. Not only will this bring some holiday cheer to your doorstep, but it can also be a great way to show off your property and get it noticed by potential customers or clients.
Types of Christmas Lights
There are many different types of Christmas lighting available on the market today, so you should have no trouble finding the perfect option to fit your needs and budget. If you want something a little more unique than the traditional string lights, then you might want to consider LED lights or even fiber optic lights. These newer options are becoming more popular each year, and they offer a number of benefits over traditional lights.
LED lights are much more energy efficient than traditional incandescent bulbs, so you'll save money on your electric bill each month. They also last much longer, so you won't have to replace them as often. And, since they don't produce any heat, they're safe to use around children and pets.
Fiber optic lights are another popular option for Christmas lighting. These lights are made of long, thin strands of glass or plastic that emit light when illuminated. They're very elegant and can add a touch of class to any holiday display.
How We Can Help With Christmas Lighting Displays in Kansas
Did you know there are 200 decorating-related injuries each day during the holiday season? These range from falls and cuts to electrical shocks and even fires. Hiring a professional to install your Christmas lights can save you time and keep you safe. A professional will have the experience and knowledge necessary to install your lights safely and correctly. They'll also be able to offer you advice on the best type of lights to use for your specific situation. At Wetlands Irrigation & Turf, we have a team of experienced and certified professionals who can help you with all your Christmas lighting needs.
Custom Lighting Design
No two homes are alike, so why should your Christmas lights be any different? At Wetlands Irrigation & Turf, we offer custom lighting design services to make sure your home is uniquely lit for the holidays. We'll work with you to understand your vision and come up with a plan that will bring your holiday dreams to life.
Provide the Lights
In addition to custom design, we also offer a wide variety of lights for you to choose from. We have everything from traditional incandescent bulbs to the latest in LED technology. We can help you find the perfect lights for your home.
Installation & Maintenance of Holiday Decor
Once we've designed your perfect holiday display, our team of certified professionals will handle the installation and maintenance of your lights. We string lights on roofs, windows, trees/shrubs, and on stakes placed in the yard. We also install daytime décor so your home stands out at any time of day. We'll make sure everything is installed correctly and safely, so you can relax and enjoy the holidays. We also offer ongoing maintenance and repair services to keep your lights looking their best all season long.
Uninstall Decorations
When the holidays are over, we'll be there to take down your decorations and safely store them away until next year. We'll make sure everything is properly packed away so it's ready to go for next season.
Store Decorations
We will store decorations from season to season, saving you the hassle. We'll make sure they're safely stored away until you're ready to use them again. This way, you don't have to worry about them taking up space in your home or garage.
Contact Wetlands Irrigation & Turf
Contact Wetlands Irrigation & Turf today for all of your Christmas lighting needs! We're here to help you make the holidays merry and bright. From design and installation to storage and maintenance, we've got you covered. So what are you waiting for? Give us a call today!